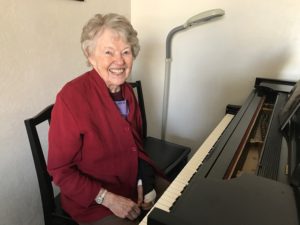 My sweet friend, mentor, and teacher, Mary Gae George, closed her eyes for the last time on July 28, 2018. While my heart is heavy, I like to think that she is thrilled to reunite with her husband and together they are now creating heavenly music that, one day, we will all be able to enjoy.
Mary Gae created Artistry at the Piano and the Artistry Alliance website because she believed that everyone deserves to study music. After all, it is one of the most beautiful and universally expressive languages. Using her laser focus, Mary Gae and her husband Jon designed a method that would teach students to be independent, creative thinkers who would produce music. Their goal was to eliminate robotic piano lessons where students would learn to play just notes. The two were convinced that there were enough teachers and parents who wanted more musical literacy for their kids than what was available.
When Jon passed away, Mary Gae worked to unite good teachers and musicians. She knew that an alliance could eradicate the, "learning to play the piano in 10 easy lessons" method. Together, she and others promoted a model of excellence that has produced positive effects on children, and equipped them with communicative skills, emotional intelligence, and creative expression.
Mary Gae believed that no matter when you start learning how to play the piano –as a young beginner, a know-it-all teen, a curious adult, or a skilled teacher –everyone can be armed with the information from which to grow. This belief is summed up well by one of her favorite quotes:
"The beginning is the most important part of the work." –Plato
As a former piano student of Mary Gae, and a piano teacher myself, I am so grateful for this philosophy she lived by and for the passion she had for teaching music. In the 20+ years that I have known Mary Gae she became one of my dearest friends. I was privileged to learn to play the piano with her artistic guidance, we recorded many ensemble pieces together, and she continued to teach and challenge me to be a better piano teacher until she passed away.
As for the Artistry Alliance, I am excited to have the opportunity to continue Mary Gae's efforts. I have been given all of Mary Gae's files and writings, and over time, I hope to make these writings available to all teachers who want to continue to learn and grow their craft. I know that her words of wisdom can continue to inspire us in our teaching efforts.